A Step-by-Step Guide to Measuring Your Bed for Safe Upstairs Transportation
Before attempting to move your bed upstairs, it's crucial to take accurate measurements of the various parts of your bed and compare them against the measurements of your staircase and doorways. This ensures that each component fits without causing damage to your home or the bed itself. Below, you'll find instructions tailored to the specific type of bed base you possess.
Important Note: Always remember to check the size and measurements against figures provided (refer to the figure next to the text) for a clearer visual understanding.
---
1. Non-Ottoman Bases (Slatted Solid Base)
Major Component: The headboard is the most substantial part of this base type.
Total Parts: This bed typically breaks down into 4 or 5 parts.Steps:

Begin by measuring the width, height, and depth of the headboard. This is your largest piece.
Measure the remaining smaller parts, noting down each measurement.
Compare these measurements with the width and height of your staircase and any doorways or turns you'll need to navigate through.
Always ensure a few centimetres of leeway for comfortable manoeuvring.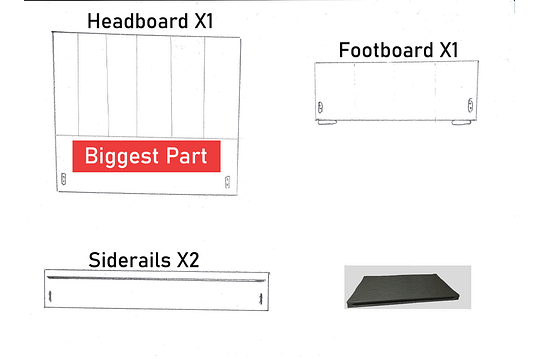 ---
2. Slatted Reinforced Ottoman Base
Primary Component: Like the Non-Ottoman base, the headboard is the largest piece.
Total Parts: This bed is made up of seven parts.Steps:

Start with the headboard. Measure its width, height, and depth.
Proceed to measure the other six parts.
As before, compare the measurements with those of your staircase, doorways, and any tight corners in your home.
Always leave some extra space for easy movement and potential adjustments.
---
3. Solid Base Ottoman Bed
Major Components: In this type, both the headboard and the two bases are significant parts.
Total Parts: This bed comes in four parts: a headboard, a footboard, and two bases.Steps:

Measure the headboard's width, height, and depth.
Measure both bases. Given that they are of considerable size (refer to the figure next to the text to see the exact size), it's vital to be precise.
Measure the footboard.
Compare all the obtained measurements with those of your staircase, doorways, and turns.
Remember to factor in some extra space for adjustments and safe handling.
---
Once you have all the measurements, plan how to move each component. If you find any part that seems too large to move safely, consider seeking assistance or consulting with a removal company. Preparation is key. Ensure that you're not only physically prepared but also equipped with the proper knowledge about the pieces you're handling. Safe moving!